Walking New Zealand
Listed in category: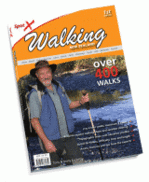 Spot X Walking in New Zealand
$39.90
If this product is out of stock, we will back-order for you and inform you immediately via email.
2 – 4 hour walks, maximum 6 hours.
Requires regular walking shoes and sensible clothing.
Topographic maps with elevation profiles.
Rated for fitness, difficulty, time and length.
Access, features and tips from the experts.
Urban, beach, parks, reserves, lakes, islands, paths, walkways and tracks.

Walking New Zealand
Following the success of 'Spot X Tramping NZ', Spot X has followed up with a similar style book on short NZ walks close to urban centers.
Compiled by Spot X in honor of the late Colin Moore who was nationally respected for his writing on adventures in the outdoors.
Photo-journalists Tony & Jenny Enderby have taken on the task of finishing this book. As keen walkers themselves they have an affinity for the outdoors and the information walkers are looking for.
Over 400 walks from North Cape to Stewart Island featuring: