Tramping in NZ: 40 of NZ's Best Trips
Listed in category: New Zealand → Tramping Guides (New Zealand)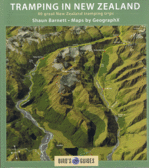 Enlarge image
(Bird's Eye)
$39.90
If this product is out of stock, we will back-order for you and inform you immediately via email.
Author: Shaun Barnett
Paperback 144 pages, colour photographs, maps
ISBN: 9781877333514

Tramping in New Zealand is a highly innovative new tramping guide, that has been developed around the latest generation of 'bird's eye' computer-generated maps. These completely accurate panoramic overviews are constructed from map data, but because they can recreate a view of the landscape from any angle or height they provide a remarkably readable and clear way of understanding the lie of the land.
For trampers, these bird's eye maps offer a superb way of showing a tramping route in three dimensions, which cannot be done with a conventional topographical map. In this book the 40 most popular tramps in New Zealand are featured, each illustrated with at least one bird's eye map. The maps are also supported by relevant route information and photographs.
The tramps covered include our best known Great Walks, such as the Milford Track, the Routeburn and the Tongariro Crossing, and many others from both islands, such as the Queen Charlotte Track, the Rees Dart near Queenstown, and the Pinnacles Hut on the Coromandel. With such a high degree of readability and visual appeal combined with the highest quality information and photographs.